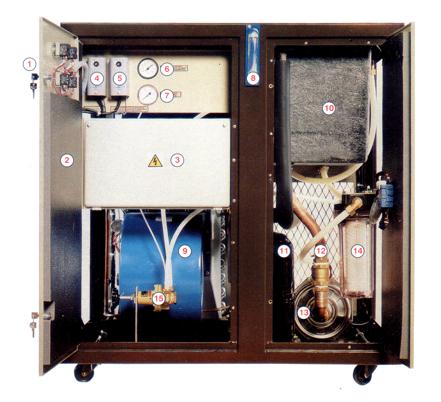 Fully self contained with all operations and safety controls.
5 models 1.4 – 8.1kW nominal capacity.
Non-ferrous high pressure pump circuit.
Low operating noise levels.
1.Lockable control panel
2.Sound insulation material
3.Electrical control box
4.Control thermostat
5.Freeze protection thermostat
6. Water temperature gauge
7. Water pressure gauge
8. Water level indicator
9. Centrifugal fans
10. Fibre glass water tank
11. Fully hermetic compressor
12. Non ferrous fluid circuit
13. Stainless steel pump
14. 100 micron water filter
15. Water pressure regulator
Assured Purity with Constant Temperature & Pressure Control
SCU close circuit recirculatory chillers are designed to ensure that the water you need for cooling is supplied to your laboratory equipment at a constant purity – pressure – and temperature, to ensure this, many standard features have been built into the equipment.
The use of low noise centrifugal fans and sound attenuated enclosure ensure the SCU units operate quietly. SCU chillers exhibit a preferred noise criterion curve below NC50.
F&R Coolers in the Laboratory
Wherever scientific equipment needs cooling with clean cool water there is a chiller in F&R Products SCU series that is purpose built for the application.
SCU chillers are employed in laboratories worldwide for cooling such apparatus as:-
Electron Microscopes
Mass Spectrometers
Diffractometers
Linear Accelerators
N.M.R.
X-Ray Equipment
Laser Equipment
Vacuum Equipment
Vacuum Pumps
Centrifuges
Freeze Drying Equipment