Industry relies on water to cool much of its reduction machinery, the cooling of this essential resource can be achieved in a number of ways:
Using water…
straight off the mains
via evaporative cooling towers
through dry air coolers
via a refrigeration system
via existing ring main of cool water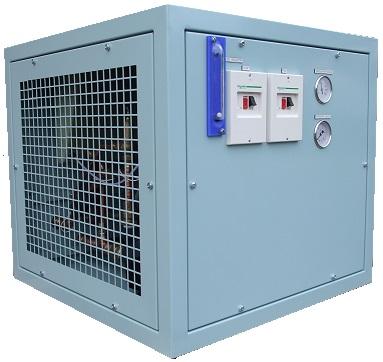 The Equipment
There are 12 models in our range of dry air coolers with duties ranging from 1kW to 200kW, all fully packaged so as to minimise on-site works, just connect flow and return into factory ring main, fill tank, connect electrical supply and equipment is ready to start work.
Cooling Capacity
The cooling capacity of the dry air coolers is based on cooling water through 10°C so that it is returned to the process 10°C above ambient temperatures i.e., in an ambient of 20°C water will be cooled from 40°C to 30°C. The heat extraction rate will vary according to the differential between the inlet and ambient temperature. The greater this differential the greater the heat extraction rate of the cooler.
Advantages:
Fully packaged for ease of installation
Fully sealed system
Non-ferrous water circuitry
Low utility costs (water and electricity)
Simple maintenance (no chemical cleaning)
No expensive water treatment
No water loss
No corrosion issues
Heat recovery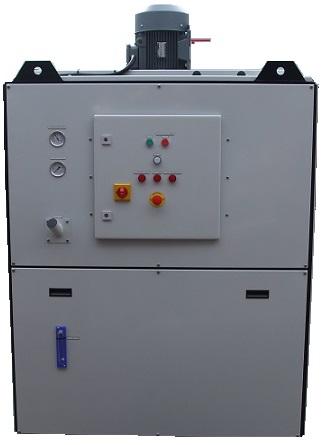 All Standard Equipment Incorporates:
Heat exchange module
Consisting of one or more high efficiency radiators, pressure tested to 15 bar as standard manufactured of copper tubes with extended surface of aluminium fins.
Fan/motor assembly
Totally enclosed IP54 motors with high efficiency fan built into cowling to give maximum efficiency.
Circulating pump
All water contact surfaces of stainless steel, with latest multi-impeller design close coupled to totally enclosed fan cooled motor of optimum size for duty.
Enclosure
Welded mild steel frame construction with panels to give neat finish, all surfaces painted.
Bulk holding tank
Plastic construction to act as a reservoir to the circulation pump.
Schematic Diagram
Typical air blast cooler circuit:
1. Unit inlet
2. Heat exchanger
3. Fan
4. Motor
5. Fan cowl
6. Reservoir
7. Mains water inlet
8. Ball valve
9. Overflow
10. Temperature gauge
11. Pump
12. Pressure relief valve
13. Pressure gauge
14. Unit outlet