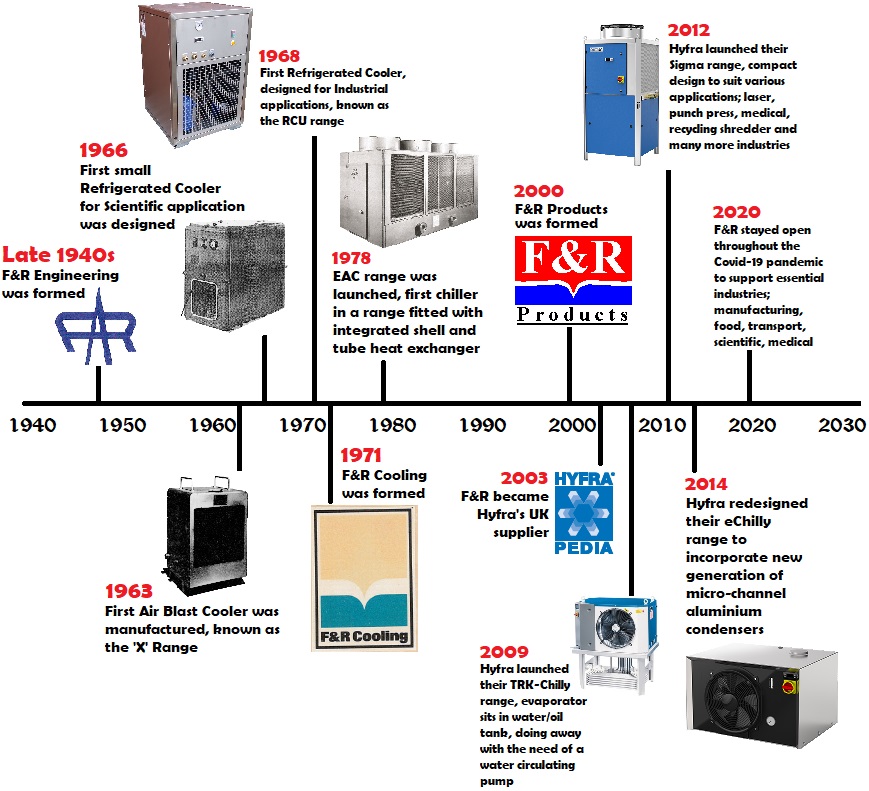 F&R Products Ltd is a British manufacturer of industrial water cooling equipment.  With its headquarters in Wellington, Somerset, England.  The company trades nationally and exports worldwide.
The company was formed in 1947 when Mr E B Froggatt and Mr P Reed, being demobbed from the RAF, started an engineering company, which they named F&R Engineering.
The company flourished during the 1960s.  However, as it is often the case, by accident F&R Engineering was given a boost by the inclement weather of the winter of 1963.  During the winter months of 1963 the company found it necessary to use argon arc welding equipment for the production of components from aluminium.  On one very cold night the water cooled torch froze and was destroyed beyond repair.
Peter Reed realised that the resolution to this problem would be to use anti-freeze in the circulating water.  However, this equipment was designed to operate off a mains water supply.  The cure was quite obvious, this being a radiator and pump which would enable the welder to be used under all ambient conditions and without the need for running mains water to waste.  An old car radiator was obtained from a nearby rubbish tip, fitted up with a pump as a completely self-contained unit and there you had F&R's first air blast water cooler.
This simple, practical and effective device was spotted by a representative of BOC who immediately recognised the potential in this application, particularly if the prototype could be tidied up and made into a production model.  The suggestion was taken up and this first cooler became the forerunner of several ranges and numerous models.
This was a timely innovation because there was an industry wide need for water coolers, not only to reduce the cost of drawing water from the mains but also to be able to supply water at a constant temperature and pressure irrespective of changes in ambient and the mains water supply.
As a result of its considerable success with the range of air blast coolers, in 1966 it was found necessary to design and manufacture a refrigerated water cooler for scientific applications, the unit being designed to cool an X-ray Spectrometer manufactured by Siemens and installed at Keele University.
At this point in time the company was fast expanding and growing out of the space available so in 1968 the decision was made to move to Wellington, Somerset.  Here the company developed its first industrial refrigerated water cooler, which gained continual popularity in many fields of application.  The original design is still the basis of the RCU range, which is in constant demand because of its simplicity and reliability of performance.  The coil-in-tank evaporator offers the opportunity to cool water (without glycol) to within a degree of freezing point without fear of damage which is very beneficial in the food industry especially when the water is being used in the food.
In early 1972 the first small GRP evaporative cooling tower was developed and manufactured as part of a range which the company began to market.  During the following decade the company consolidated its position and its sales turnover and profit climbed steadily.  Further models were added to the portfolio such as:-
EAC range of conventional design incorporating shell and tube evaporators ranging in performance from 30kW to 300kW, all fully packaged complete with pump, pipework and all essential controls ready for on-site installation internally or externally.
VP range, incorporating plate evaporators followed with cooling duties ranging from 6kW to 30kW but more compact using less floor area suitable for internal siting.
Last but not least, the SCU models were introduced into the portfolio whose physical size and appearance were based on a standard electronics cabinet designed primarily for internal use to cool electronic equipment in a laboratory environment meaning they had to be quiet in operation.
In 1987 – F&R Cooling Ltd obtained Quality Standard BS 5750.
During the late 1990s F&R hit on hard times, as a lot of industry did at this time, and eventually went into Receivership in May 2000.  Several of their competitors looked at the company but due to the length of service given by many of its employees the prospective buyers were frightened off by fear of pension claims.  The company was eventually purchased by a long serving employee who was able to slowly rebuild the business based on established designs and past customers' goodwill with ISO 9001 re-established in 2013.
There is an F&R Products water cooling system to cater for a need wherever it arises.  Cooling specifications range from water temperatures of +100°C to minus 35°C embracing flow capacities of 0.5 to 50m3/hr and cooling capacities ranging from 0.5kW to 500kW and greater.  Benefits include:-
Total flexibility of design
Factory packaged units for ease of installation
Energy recovery systems
Simple in operation
Year round reliability
Wide load fluctuations
Extensive range of protective controls
Aggressive environmental protection (optional)
Ease of maintenance and servicing
The ability to reduce water consumption and conserve water supplies
Helping to provide a solution to environmental pollution
Minimise the introduction of impurities into the cooling water and thus prevent corrosion and blockages
Compact design
Design flexibility to suit your application.