The eChilly and eChilly+ ranges offer high efficiency performance levels in a compact enclosure, allowing the range to be integrated into almost any machine layout.
The ranges are available with a variety of options including water cooled versions.
 Trouble free operation with 10% less refrigerant due to use of microchannel condenser technology.
All models are filled with air filters as standard thus preventing foreign particles from entering the machine and causing fouls.
A scratch-proof stainless steel housing helps protect the equipment.
Typical applications include:-
Machine tools
Welders
Milling machines
Drilling stations
Laboratory instruments
eChilly 1
Power range:  1kW
Medium:  Water
Footprint:  Compact design
Flexible: Can be adapted to the machine layout
eChilly+ 2/3/4
Power range:  2 – 4kW
Future-proof refrigerant R134a, prepared for R513a
Compact design: smaller footprint with 0.5m2 – one housing for all sizes
Integrated additional options such as level indicator, easy tank draining and variable placement of connection options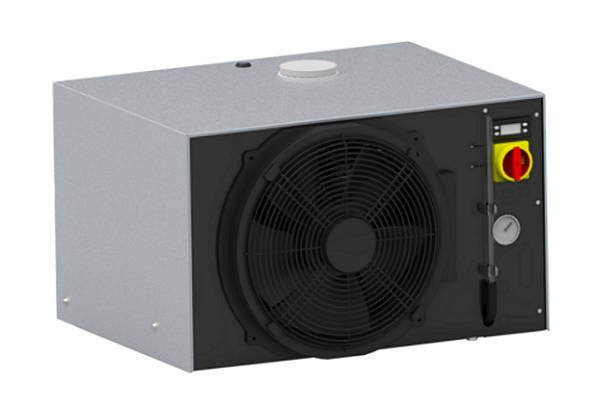 eChilly 5/6
Power range:  5 – 6kW
Medium:  Water
Flexible: Can be adapted to the machine layout
Ready to plug in: immediately ready for use
Popular range of low cost packaged water chillers with cooling capacities ranging from 0.5kW to 6.8kW whilst operating in ambients up to 42°C.
Stainless steel enclosure
Metal mesh air filter
Micro-channel condenser (aluminium)
Water level indicator
Digital thermostat with hysteresis of +/- 1K
Common alarm indication
Bypass pump protection
Common alarm signal
Ambient temperature <42°C
The manufacturer also offers a wide range of options to enable you to customise the chiller to your own application. These include:-
Low water level alarm
Water pressure gauge
Flow meter/switch
Twin water circuit
High pressure pump
Automatic water refill
Various electrical supplies options
Harting-plug connectors
Cable identification
Castors
Water cooled condenser
Low ambient kit
Close temperature control
Process water coolers applications include:-
Scientific instruments
Print rollers
Machine tools
Grinding machines
Spindle
Electronic cabinets
Spot welders
Sample water coolers
Spark erroders
Oil cooling
Laser water cooling
High pressure compressors
Plunge pools
Calibration equipment
Air
Brine